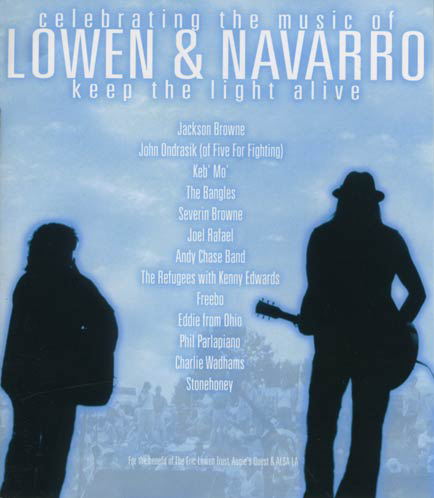 In an extraordinary display of love and friendship, thirteen of our favorite artists, many of then dear friends, have joined to create new interpretations on classic L&N songs. The new CD,
"Keep The Light Alive: Celebrating The Music of Lowen & Navarro"
, will benefit The
Eric Lowen Trust
and two major ALS charities: Augie's Quest and The ALS Association's Greater Los Angeles Chapter.
All of the artists featured here have had some sort of previous connection to us, made in the many stops along our well-traveled road. Released by AIX Records, producers of our DVD albums
"Carry On Toigether"
and
"Pieces Of Time Spent"
.
Featuring:
Jackson Browne - "Weight Of The World"
John Ondrasik (of Five For Fighting) - "Keep The Light Alive"
Keb' Mo' - "If You Loved Me Like That"
The Bangles - "We Belong"
Severin Browne - "Open Your Heart"
Joel Rafael - "Old Riverside"
Andy Chase Band - "You Stay On My Mind"
The Refugees with Kenny Edwards - "Compass Point"
Freebo - "I Don't Believe In Yesterday"
Eddie From Ohio - "Just To See You"
Phil Parlapiano - "The Opposite Of Everything"
Charlie Wadhams - "Cold Outside"
Stonehoney - "If I Was The Rain"
»
BUY Keep The Light Alive NOW from AIX Records
» Visit
keepthelightalive.org