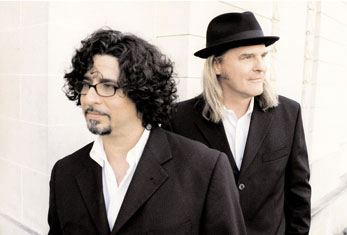 For over twenty years, 12 albums, 1500 shows and a million miles, Lowen & Navarro wrote, recorded and toured their way into the hearts of thousands of rabid fans worldwide.
Beginning their long careers in 1984 as songwriters for others -- notably, the Grammy-nominated classic "
We Belong
" for
Pat Benatar
, as well as songs for
The Bangles
,
The Triplets
,
The Temptations
,
Four Tops
,
Dave Edmunds
,
David Lee Roth
and many others -- they made the usually difficult transition to artists, characterized by songs of deep insight and rich experience, colored by their supple two part harmonies and ringing acoustic guitars.
Their first two albums, "
Walking on a Wire
" (1990) and "
Broken Moon
" (1993), became Triple A radio staples and established them as one of the most reliable acts in adult rock radio, drawing large crowds and instilling a unique brand of loyalty, with fans driving long distances to see their compelling live performances. It was through a series of serendipitous accidents in 1990 that they developed their stirring concert-closing trademark — an encore delivered completely unplugged, sans mics or state amplification, "
TFA
" (totally...acoustic) that brought their audience to a pent-up silence in order to hear their joined voices and, when finished, resulted in a veritable eruption of an ovation.
They continued to progress into the mid-90s, with three more albums — a re-released "
Walking On a Wire
", with bonus tracks that cracked Radio & Records Adult Alternative charts in 1994, the underrated "
Pendulum
" in 1995 and the soberminded "
Scratch At The Door
" in 1998, where Eric & Dan tackled a darker set of issues, as marriage, divorce, parenthood and middle-age loomed on their personal horizons. It was a moodier version of their adult rock sound, portending evolutions yet to come.
By the late-90s, radio was changing, and so were L&N. Refusing to pander to prevailing commercial winds, they made a stark left turn into an earthier, rootsier style, embracing the folk music world and its depth and honesty. As it turned out, their audience were right behind them, and their concerts continued to garner rave reviews and create new legions of followers. But their recording success weakened, and their third label dropped them in 1999.
So they launched their own record label,
Red Hen Records
, and initially released a few sets of specialty albums -- "
Live Wire
", from a 1989 club performance that won them their first (and second) recording contract; companion piece "
Live Radio
", culled from four performances on
Roz & Howard Larman's
"
Folk Scene
" radio show; and "
At Long Last…Christmas
", an oft-demanded set of holiday material.
In 2004, while still touring extensively and basking in the freedom of self-reliance, they were gobsmacked by Eric Lowen's devastating diagnosis with
ALS
, aka Lou Gehrig's Disease, a progressive degenerative, ultimately fatal neuromuscular affliction that leaves its victims paralyzed. Rather than give in or give up, Lowen & Navarro raised the stakes, and set out to make their first album of new material in six years, 2004's stellar "
All The Time In The World
".
Far from a swan song, it turned out to be a new beginning, as they persisted through five more years, 250 more shows and two more albums, including 2006's "
Hogging The Covers
", a collection of songs by other writers, and their final album, "
Learning To Fall
" in 2008. Many of the new songs on both "
All The Time In The World
" and "
Learning To Fall
" dealt directly with the fears and inspirations that come from life-altering events, and are ranked among their finest work.
By 2009, the impact of the disease left Lowen unable to play, sing or tour, and they retired the touring and recording phase of their partnership to concentrate on new horizons. Dan Navarro began what is now a blossoming
solo recording and touring career
, and Lowen turned to overseeing their public interactions, particularly through their
Facebook Fan Page
, and the release of dozens of vintage live performances through their newly-launched Live Archive Series,
available on their website
and Facebook.
Now, as before,
Lowen & Navarro
-- and their music -- are all about the wisdom and perspective gained through honest encounter with the frailties and robustness of life, of difficulties faced head-on and roads well traveled. Long may they run.